Virtual reality images, movies, are ideal for architects, builders, Realtors, engineers, interior decorators or anyone that is interested in promoting large spacious areas that can not be physically concieved by flat 2D images. Virtual reality movies, images, are better than pictures in that they promote the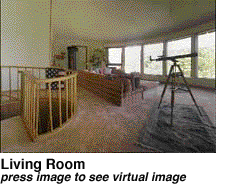 "feeling" of "being" and almost touching within the space imaged. They define space and atmosphere better, one is allowed to zoom in and out for detail and overview. Virtual reality images further help qualify interested customers and permit them to review and repeat visits unsupervised to properties. Virtual reality makes your job more economical and comprehensive.

Our virtual reality movies are created with Quicktime™ in order to maintain quality better than other media players that appears to be grainy, de-saturated and lack detail after compression. If you are going to show something make it be as close of a representation, so it sells almost immediately. Other features are control. Quicktime™ allows for the operator to have full control. Including a "hot spot" allows other site linkages or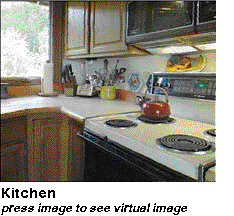 details to appear; making again a better and more impressive multimedia experience.
The cost of virtual reality solutions are quoted per job basis. The normal cost for a shooting 1/2 day is $850.00, plus travel and expenses. A half day shoot normally gives us adequate time to shoot 5 to 6 shots. Each location might require special lighting and set-up costs.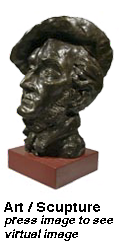 Virtual Reality is the best solution to present products. Whatever your product your product might be, virtual reality movie photography is the perfect way to show off or demonstrate your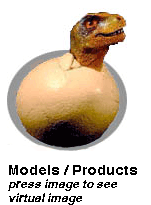 products. As the images, object images allow the customer to zero in and "almost feel" stitching and the fabric. This something no 2D picture can achieve. Pictured here a few examples we developed for various businesses and institutions; a bust of Wagner, a golf bag, and a dinosaur with youngster popping out is must see.
To operate the Virtual Reality movies, click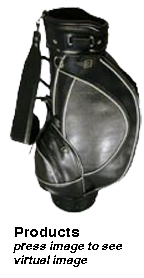 your mouse on the photo, perferably about an half inch from the pictures boarder, press your keyboard arrows to the direction you want to move the image, (that is: to go left, press the left keyboard arrow). To zoom in: press the "+" (plus) key located on the bottom side of the image; to zoom out: press the " - " (minus) key, located on the bottom side of the image.