Raised bed planters make gardening accessible for avid and beginning gardeners alike; people with back issues and other physical limitations. The planters allow for most work to be performed from a stool, chair, kneeling or if desired, a comfortable standing position. The planters are the proper height so they do not impair your view. They enhance the beauty of your home by allowing vegetables, flowers and other small plant growth to form a pleasant low hedge.
Compact: In small urban plots, where one has little room or lack of good soil, the planters allow small hard surfaced areas to be transformed into productive gardens

.



Tasty Food: Vegetables and fruits taste better when they are allow to ripen naturally on the vine. Naturally ripen food provides more nutrients and enzymes our bodies need.





Environment: Growing your own food allows you to know exactly which pesticides (preferably not), fertilizers, soil, seed stock used. Many vegetables, herbs, berries and fruits are grown in places far from where we live. By growing your food "locally" you're also reducing the carbon foot print.




Mobility: Move planters to different positions on your hard surfaces. Heavy duty commercial grade locking casters allow for easy movement and mobility. This mobility allows areas to be quickly converted and used for social, sport, parking, and other activities.

M-Series Rolling Planters: These attractive planters come in standard width and length configurations from: 2 x 4,' to 4 x 8.' Standard height is 25." Custom sizes are available. Each planter is made from "new growth" sustainable forest lumber that is either certified by the FSC, Forest Stewardship Council, or by the SFI, Sustainable Forest Initiative.
50% of the lumber is rough sawn cedar planks. The cedar planks are used for our side panels. The other 50% of the lumber is fir. This lumber is bathed in plant oil and minerals, planed and sanded and used for the structural frames and chassis. Cedar is not a structural wood. To make a box strong, rigid and able to withstand the stresses of movement we use fir.
The boards and planks are handsomely bolted or screwed together (We do not use flimsy rods, clips, pegs, nails or staples. The planters hardware is made of case hardened steel coated with a heavy epoxy or ceramic finishes to resist weather, moisture and corrosions). The interiors are lined with a heavy welded tri-ply fiberglass reinforced polyethylene liner. Every box is plumbed with special hardware for drainage. The hardware is designed that tubing may be attached to direct over water spillage to other plants or containers (prevents water stains and promotes conservation).
The boxes are easily moved without soil and in most cases even when soil and plants have been added. The mobility of the full planter depends on the slope and the surface material and planter size. The wheels are industrial quality and NSF certified. Last, all wheels are securely bolted and installed with a strong locking mechanisms.
For more views of the rollingplanter click this link: SEE: M-Series RollingPlanters
Pedestal Planters: We have designed and developed rolling raised bed planters for people with special needs or have been restricted by certain handicaps or injuries.
Many do not want to be deprived access to their garden patches, for their exercise or their hobby. There is a true joy to watch flowers, plants, vegetable, herbs and fruit grow. Growing plants can be like raising pets. They help reduce stress, improve concentration and provide psychological benefits. People feel a huge sense of achievement and take great pleasure in watching their seedlings grow.
Based on several experimental studies, the presence of potted plants has been found to be helpful in many different settings including work, school, and hospitals. In particular, plants have been shown to-
Lower blood pressure (systolic)
Improve reaction times
Increase attentiveness
Improve attendance (at work and school)
Raise productivity (at work)
Improve well-being
Improve perceptions of the space
Lower levels of anxiety during recovery from surgery
Raise job satisfaction*
Currently we offer planters at 30," 32," 34", and 36" high. A 42" planter is also available, but offered without wheels. These size eliminate the need to bend and rise frequently, thereby protecting bones and muscles from strain and injury.
The same box construction is used on both the basic rolling plant and the pedestal. We do incorporated a more elaborate structural framework on pedestal since their is considerable more weight and stress factors associated with this setup. The framework is totally made of fir. Note: It is just about criminal to use cedar or any wood that is not structural for a pedestal configuration.
*Psychology Today, Jonathan Kaplan, Ph.D.
For more views of the rolling pedestal planter click this link: SEE: MP Series, Pedestal RollingPlanters
Fixed Position, Stationary Planters: All our planter can be provided without wheels. We do not offer a planter without a bottom. Bottomless planters in general do not last as long as those which do have a bottom and are lined. A bottomless planter is always subjected to the elements. Rot occurs because part of the box's wood is always exposed. Boxes like this last three to five years in most parts. The planters last less time, if they were built with staples, nails or other flimsy hardware.
Our main concern associated with bottomless planters is that this type of planter allows unwanted pest as shrews, gophers, woodchucks, rats, mice and other ground burrowing animals to enter your garden oasis without detection. By the time you have discovered them they have harvested your plot or made most of your food inedible. Our planters are provided with a sturdy unequal constructed floors, a flood that is impossible for any unwanted critters to penetrate.
Our planters wooden feet never touch the earth's surface. We have designed large solid blocks of plastic that are securely anchored on the bottom of each planter. These plastic blocks are thick and provide a genuine barrier from ground elements. The plastic is so strong and thick it apparently acts like Teflon. We have heard that our fixed position planters are nearly as mobile with these blocks as those with wheels; of course, we did not design the planters to be used this way.
With bottoms our planters conserve water. Instead of watering the ground you are watering the planter and the plants you are growing within it. You do have to mulch in order to slow surface evaporation. One finds, especially in the western and southern United States, that we have to be concerned about water use. Droughts and water restrictions are going to become more important issues. We must concern ourself with this problem now and in the future. We must learn how to conserve water.
As the rolling and the pedestal planter, these planter use the same construction methods, materials and drainage system.
ORDERING:
To order your RollingPlanter, please call 805-643-5902 or press PURCHASE NOW or the Purchase tab on top of any page.
Please download our price list by pressing either the RollingPlanter Price List or Pedestal Price List:


M-Series Price List MP-Series Price List How the planters are handmade video


To view the price list you will need to have Adobe Acrobat installed on your computer. If you do not have it installed, please download your copy by pressing the Adobe Reader icon below.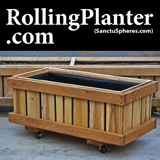 RollingPlanter.com
263 South Pacific Avenue
Ventura, CA 93001
telephone: 805.643.5902
e-mail: info [ at ] rollingplanter.com