is owned and operated by Gregory D. Beeman of San Clemente, California. Architectural Artisans, Inc. was launched as a première custom painting company specializing in the exclusive application of true Italian Olde-World Venetian plaster, fashionably known as decorative liquid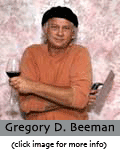 marble.
In 1978, shortly after graduating from Central Michigan University, Greg garnered the tutelage of two of Southern California's renowned Mission Masters: Stig Einarson and Carl Wondenberg.
Greg furthered his expertise by earning Masters Degree in Fine Arts from UCLA and then joining Paramount Studios
where he quickly excelled on sets for his realism, renaissance style, and extraordinary eye for color, color-matching, and faux/ illusionary paint finishes.
For the past few years, Greg has been an artist of residency / contractor of the renown specialty fine paint merchant Roger Merrill, Merrill Paints of San Clemente, California.
A virtuoso extraordinaire with over thirty years as a professional industrial artist, Greg refers uncompromisingly to his clients as:

"The Master Blaster of Venetian Plaster"